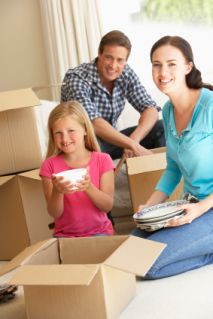 Harrow Packing Services for Stress-Free House Moves
26 August 2014
You will likely be familiar by now with the exorbitant amount of work that a house move will take up. You will also be familiar with the costs that are incurred by many of the services, and will no doubt be trying to reduce the impact that the move is making on your wallet, so the idea of paying someone to pack up your things for you may seem like a joke. However, given certain considerations, having a packing service can save you money in the long run, so it is worth giving this quick rundown of the ways in which you can use Harrow packing services for stress free Harrow house moves.

Firstly, to sort out your worries about costs, we'll take a look at the sorts of extra charges that you may be incurring. Many removals companies will offer a packing service that can be added to the charge of their regular removals service, so if you have chosen a remover, or are about to, keep this in mind and you should be able to include it in your service. Having the same company do your packing for you will mean that the goods are as well protected as they can be, as with all the experience that a Harrow removals company should have, they will know all the ins and outs that are involved in getting your items packed away as efficiently and safely as possible, so that nothing is dropped or broken. This sort of thing will reduce the risk of incurring extra charges in the long run. When you are haggling down your quote, you may find that you can make the extra weight of the added cost of a packing service a lot smaller, so it will not actually feel like such an enormous expense. If you book your removals company a lot earlier, then you can get great deals anyway, so with the money you are saving by being prepared, you can afford to spend a little extra on making your move that little bit easier. It is also worth noting that for many companies, self-packed items are not covered by their insurance. This is perhaps a little bit of a scam to force you in to using their packing services, but if you were erring on the side of going with the packing service anyway, then it could be a great decider for you. Insurance protects your items from any accident incurred during the job, and if you have packed them yourself, then you will not be reimbursed, even if the box containing the items has been dropped by an employee of the HA1 removals company.

With all of this in mind, it is worth considering the things that you could do with the time you would save whilst not having to pack. It would mean that you would not have to miss any work, which would obviously be a great positive in terms of making sure that you are earning the money that you have spent back over time. You may not work, but the time saved can be used for other things, like making sure that the rest of the move is going ahead smoothly, or that your children are well looked after, and prepared for the move. All in all, the time you would have is very valuable and can be put to all sorts of uses, so the idea of a HA1 packing service may seem over the top and not particularly cost effective at first, but in the long run, considering certain factors, it may be well worth it.