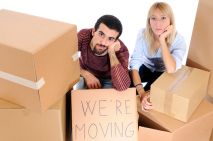 Hire Reputable Movers for a Smooth Lambeth Move
26 August 2014
Relocating to a London area such as Lambeth can be very stressful and complex. Packing, moving, transporting and cleaning aren't always as simple as they sound. Especially when doing so in a busy and bustling city. A lot of planning and thought needs to go into a London move. Consider your options before making a final decision on how you will move and you'll find your Lambeth removal easier and less stressful than you first expected.

Man and Van

The advantages of man and van services are that they are quick, straight forward and reasonably priced. From emergency removals to a planned moving date, a man and van service will get the job done as quickly as possible, depending on your house removal needs. Hiring help for your Lambeth removal means professionals will take on the hard work and do a better job than you might do if you decided to DIY. To choose the right man and van company for your house move to Lambeth, shop around, go by recommendations and word of mouth to ensure you're getting the best from your money, no matter your budget. However difficult the job in hand, good quality hired help such as a man and van service will get the job done, whether it's big or small. Therefore making the price completely worth it and your move to Lambeth an overall success. This service normally involved one or two staff, a small to medium van and loading and off-loading. It's a simple yet effective way to move quickly. You pack, they move.

Full Service

Another option for your move to Lambeth would be to hire a company who offer a full service removal. This means they will pack, load and move your goods for you, so you won't have to lift a finger. Of course, this service often comes at a price, so if you've got the money to hire the full works, go for it. Hiring a reputable removal company who offer a bespoke service such as this will take away any extra stress from your moving plans. They are professionals after all, so they will be trained in how to pack, load and move carefully and safely. Always consider insurance and ensure the company you choose for a full service are renowned and recommended – you will always get what you pay for. This service will start with a visit from a member of the company's team or a surveyance manager. You will then discuss prices and dates. On the day of the move, the team will normally arrive and start the packing process. This may happen a few days before or just on the day depending on the amount of stuff you are relocating. When everything is packed-up and ready to go, the company you hire will then ensure your belongings reach your new home in Lambeth safely and securely. Upon arrival, the service normally includes unloading the vehicle and placing your items in your new Lambeth home, dependent on your situation and circumstances. Usually, a company offering a full service will also unpack your goods as well and allow you to inspect them in case of damage. If damages occur, the insurance that covers the company will pay.

Other services available for your Lambeth move include:

Cleaning after moving in
Cleaning before moving out
Handyman service
Decorating and redecorating

The choice is yours!