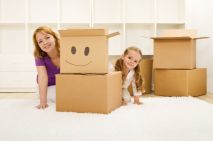 Moving to the SW6 Area Using Storage Containers
26 August 2014
Most people use a removal company or hire a man with a van to help them move home, few people consider using a storage container company and this is mainly because people aren't aware of the benefits that these companies can offer to a home mover.

What is a storage container?

A storage container is basically the mid-point of hiring a removal company to help you move to the SW6 area, and hiring a van and moving yourself. This is basically a container that is dropped to you at your property, it is placed somewhere like your garden or driveway, you fill the container up with your belongings until it is full and then contact the storage container company who will pick it up and move it to your new property for you. The company will usually have another storage container waiting for you in case you should need it. Once you are at your new property the storage container company will drop the container, or if you have more than one whichever one you want first, to you at your new home. You can then unload this in your own time, unlike hiring a van where you need to unload it as soon as possible, there is no rush with a storage container. Once you have finished unloading you then call the storage container company who will remove the empty container and replace it with another one full of your stuff, this process continues until you are completely moved into your new property.

What are the benefits of using a storage container company?

The main benefit to a storage container is that it gives you some extra storage and allows you to de-clutter your home making it clean and tidy for viewings. You can de-clutter and pack at your own pace, the container will always be there, this ability to work at your own pace takes out a lot of the stress of moving home.

Because you load and unload the storage container yourself, you know that you are the only ones to handle your belongings, you do not have to put your trust in someone else. A removal company, on the other hand, will handle your boxed belongings when loading and unloading the van, and may even touch your actual things if you ask the company to supply their packaging service for you too.
Storage container companies offer storage facilities, so if you are downsizing and cannot house all of your things, but equally you don't want to get rid of them, then you can put all of these into one container and ask the company to store it for you.

You have some security in that once you have loaded the storage container with your belongings you can lock it and keep them safe, which is obviously very important as it will be full of things you wish to keep and move to your new home. This key is yours, and without it nobody else will be able to get into the container, giving you full control over who has access to your stuff.

The obvious down side to using a storage container company is that while you are packing the storage container unit it will be out the front of your property, it will not look pretty, and depending on how long it takes you to load it and have it collected, it may be there for a while. If you are de-cluttering your home for viewings you will need to ensure that it has been removed before people come to look at your home, this may mean the company has to store the container for you for a month or so until you have sold the house and secured a new property.