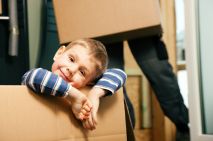 Rules To Follow When Choosing A Self Storage Facility
26 August 2014
Our current generation is always on the move, relocating from one place to another more than ever. With jobs that are constantly revolving and transferring employees from local to international offices, people are always moving all over the globe. But because of this frequent relocation, they constantly find themselves struggling with the phase of packing up all their belongings and moving into a new place. This can be a really hectic and tiresome process. Especially when you don't know how long you will be away for. Some people are only sent for short term work purposes and can return within six months. In such cases it is always best to have a place where you can securely store your belongings that you cannot easily take with you everywhere.

Now depending on the size of your belongings you cannot always just ask a friend or family member to temporarily store your stuff in their attic or basement. You should try and look for a good self – storage facility. The trend of such facilities is constantly rising because of this increase in trend of moving around. The need of such storage facilities is increasing leading to more business and more companies joining the market. Though this can be a very beneficial setup for you, it is important that you know exactly how to choose the right storage facility for you.

Always start by looking for a facility that is nearest to your personal location so that you can conveniently visit it anytime you need, especially when you will be transporting all your goods there for the first time. Coming from too far away will not allow you to make frequent trips back and forth and you will have to hire a man and van service to take all your belongings to this storage facility. Before you hire a facility you should ask them what time you will be allowed to come in for access. Some storage areas have particular timings and days during which you can access the facility. If you have very busy and unreliable schedule this might not work for you. There are plenty of companies out there that have no such restriction. This is always a great option. They just give you a key and you are allowed to walk in whenever you want to see your stuff.

The second important thing that you should look into is the security system of the storage facility that you are renting. Check out their gates, locks, staff patrols, sign – in sheet requirements, cameras, and other such systems. You can also directly inquire them about what system they are using for security purposes. If you feel that the security system of the facility you are looking at is not strong enough, don't bother wasting your time there.

If the things you are storing are sensitive to temperature you should ask for a storage facility that has a climate control. These are being frequently available to the general public due to high demand. For items that require a stable climate, ventilation, cooling, heating, or humidity controls, this would be a necessary requirement. On top of all that don't forget to ask if they cover your stuff for insurance in case of any accidents. This is also a must have feature if you want to store your items at a facility for long. The risk is not worth having no insurance. Finally consider the size and price of the unit that you are looking at. Once you have finalized everything, carefully read through their documentation before you make any signatures.