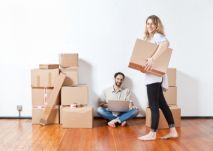 The Pros Of Hiring Professional E20 Moving Services
26 August 2014
Moving can be quite a stressful activity because not only is emotionally challenging but also physically exhausting if not done right. One might ask what can be so difficult when it comes to moving house or office. Well, not only it is a time-consuming activity because of all the processes involved (i.e. packing, unpacking, loading and unloading) but it can also create a huge hole in your budget, especially if you do it by yourself. But all these things don't have to happen. There are E20 moving specialists who can take care of your E20 removal, making it a pleasant activity. Still, if you are in doubt whether to hire such a company, this list of benefits brought by hiring their services might help you decide:

• You save a lot of time if you let specialists take care of your moving. They will manage the time effectively and will also finish the job faster than you did if you would do it by yourself. Due to their expertise, you will be able to create a realistic schedule and you will also know what to transport first. The effective time management is very important because it decreases the chances of your belongings being damaged or lost. Also, the period of time in which you will be stressed about your move will decrease as well.

• Fast and safe! If you were to describe in two words how a removal company will transport your belongings, those would be the words. By asking specialists to take care of your removal, you know that the chances of your belongings being damaged or lost are very low. The reason for this is very easy to understand: moving companies have equipments and facilities that you don't have. Therefore, if you did this task all by yourself, you would have to several trips until all your belongings would be transported to the new address. But with a moving company, your belongings will be transported in no time and they will be also packed by specialists, which result in less damage and loss.

• Another pro to hire a removal company is that they will considerably reduce the stress of your moving, because they will do the entire job for you. No need to stress about packing and unpacking your belongings or to find a car with which to transport them, all of these will be solved with only one phone call. Moreover, you won`t have to worry about not packing your belongings appropriately or for the fragile ones. If you want some of them to be better taken care of, you can just instruct the service providers which ones are fragile.

• Least but not last, it is your budget. You will save a lot of money with a moving company. Despite the fact most people tend to believe it would be cheaper if they did this task by themselves, it`s not true. The main reason for this is that you will have to purchase all the packing materials and to go back and forth many times in order to transport everything, and this consumes a lot of petrol, which means more money. If you are moving locally the best moving service would be the E20 man with a van service, which is the cheapest option when it comes to your moving.