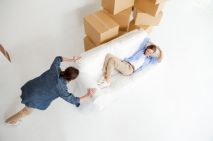 What Are The Benefits Of Using W14 Self-Storage
26 August 2014
Self-storage is becoming more and more popular as people are beginning to realise the benefits of hiring a home-away-from-home. There are many reasons as to why self-storage is becoming as popular as it is, and if you're thinking about investing then take a look at this list of reasons why you should!

1) Space.
Hiring a self-storage space, room or container is going to free up a lot of room in your home. Whether you're looking for a space for store old furniture, or even if you're just planning on de-cluttering, the space you can save through self-storage can be invaluable. If you're moving to a property that just doesn't have the room you need then a W14 self-storage solution could provide the answer to your problem.

2) Work.
If you work from home, or if you bring the office home with you, then it's likely your home is getting rather cluttered and busy. Setting up office in a self-storage unit is a great way to keep your business and home life separate, and free-up some much-needed space in your home. If you just don't have the room in your house to set up your own study, then this is a fantastic way to be able to work away from the office.

3) Safety.
You might find that a storage company provides a higher level of security than your home could. If you're looking to store antiques or items of value then self-storage is definitely an option for you to look into. Consider the different insurance policies that are offered within self-storage companies to see if you can find one to suit you and your budget. Don't be afraid to ask for local crime figures surrounding the area, as well as for a history of how many times the company has been targeted by thieves and criminals. Reputable self-storage companies won't mind sharing this information with you. It's also important to pay attention to the alarm and security systems that have been put in place to protect your belongings. The level of safety and protection provided is going to affect the price you'll be paying, so consider your options and do your research carefully and thoroughly.

4) One-off occasions.
Having a storage space W14 will come in surprisingly handy for those one-off occasions. If you're planning on renovating your home you might be looking for a place to store furniture temporarily, or you might just want to clear out your home in preparation for an event or party. There are many different and surprising ways in which having a self-storage solution is going to benefit you and your family.

5) Moving house.
One of the most common problems with moving from rented properties or student moves W14 is an overlap of dates. If your tenancy expires on the 31st of the month but your new lease doesn't begin until the 1st of the following month, then you're going to need a place to store your belongings overnight. Having access to a W14 self-storage facility is the perfect way to solve this problem easily and without stress.