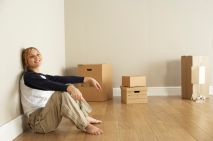 What you Should NOT Pack When Moving Home
26 August 2014
There are many articles and advices written on the topic what and how you should pack your things before you move to a new place. However, there is one more aspect of the removing process that many people tend to miss. These are the items you should not pack when moving to a new place especially in case you are not hiring a professional man and a van company but doing the removal by yourself. The following lines will give you a brief idea on what you should not pack when moving in order to avoid any possible damages during transportation. There are also items that can be packed but you should follow certain rules when doing this and it may even require calling a specialist in order to properly do the job for you. There are even official rules and guides on what should be avoided when moving and every reputable man and a van company should know and keep them. The list contains only items that should not be packed under any circumstances.

Items that can be easily flamed or exploded as well as corrosive ones

This list includes the following items:

• Different types of acids, gasoline, lighter fluids
• Also paints, matches, batteries, manure
• Bleach and stern
• Fireworks, paint diluents, nail polish remover
• Any sets of chemicals, petroleum
• Motor oils, guns, no matter if loaded or not, any types of weed killers and pesticides, ammonia
• Oil lamps and tanks containing propane, cleaning liquids based on chemicals

You should also not take with you any food or plants that cannot survive the transportation and might turn soar. At least 24 hour before the transportation remove all of the food that is inside the refrigerator and leave its door open so that the fridge can get dry and to prevent mold. This will also prevent any bad odours that might appear in case you leave inside the fridge some food that might turn sour.

There are also items that are nor recommendable to be in the packages when transporting them. These items are not harmful and cannot cause damages in any way but they might get lost during the removal and this might cause you issues. This unpleasant situation can be easily escaped if you take all essential belongings with you, in your hand luggage as transportation companies do not take responsibility in case something from your packs and boxes gets lost. These essential items include:

• Any types of personal files, documents and cards
• Tickets, anything connected with finance, pictures and albums
• You car keys as well as the keys from your new home and all other places
• School records of your children, records from your doctor, any other important documentation
• All kinds of precious jewellery that you have – gold, silver and precious stones. Practically everything valuable should be with you in your hand bag.
• Last but not least, all your personal documents – personal Ids, driver licenses, etc should be in your hand bag. Also if you have any valuable letters from banks and bank accounts information – take them with you.